How to style up your embroidery Kurtis
Kurtis are undoubtedly a visually pleasing appearance as they are not your typical ethnic wear garment and have a calmer style quotient that gives us a break from traditional clothing. These tunics are greatly shaping the fashion industry for women in India. It is influenced by western clothing but still gives the maximum amount of comfort and is still stylish enough to be worn for a wide range of occasions and purposes. Based on what you like regarding fashion sense, you can easily style up your Kurti to make an amazingly fabulous look that will have your friends and family where you bought the kurti from.
As the demand for this clothing article has increased, so has the availability and this is why wholesale embroidery Kurtis are such a blossoming business in India. Women of all ages and sizes have taken to it as it is one thing that can cater to an assortment of requirements. Now you can just throw this on without having any doubt of what it looks like and if you will feel suffocated or not. 
When it comes to styling up this garment, there are a number of solutions and you will find that you can have a different look every day of the week. Let me illustrate a number of pairings that are available to you.
1. Palazzo pants:
The palazzo pants are modern styled pants that usually have a wide thickness throughout the entire length. They are considered very comfortable as they are wide-leg meaning that your legs will not be suffocated and swollen as this is what happens only when you wear tight clothing. You can easily wear a plain, neutral-colored palazzo to emphasize the beauty of your designer embroidery kurti.
Some palazzo pants even have some decorations at the bottom near the ankles, this can be a lace border, crocketed ends, or even something involving sequins or embroidery -choose whatever tickles your fancy. Other palazzos may be lacking decor but end up being compensated with a stylish cut like bell-bottoms. When buying palazzo pants, make sure to select a reasonable color that can be paired with other tops, choose dark colors (navy blue, black, grey) or else light colors (white, beige, cream) as these shades are known to match with every other color out there.
2. Jeans:
Many kurtis that bear very small embroidery designs that are not anything great to look at usually require a super stylish pairing that will compliment the kurti to make it a more attractive overall look. You can team up your kurti with a pair of simple or designer jeans that have a perfect fitting. Together it gives off an indo-western themed look that will keep you comfortable and still fashionable every time.
No restrictions apply and you can go ahead and wear your jeans with other ethnic tunics including short kurtis, shirt style, and even just plain printed ones. They are best for casual meetings with friends or going out to the market to buy some vegetables and groceries. Now it is this simple to get a stylish look without trying too hard or going to extremes to achieve it!
3. Skirts:
Long skirts are the hottest trend on the market right now and they offer a feel that none of the other garments can provide. That said, they are extremely comfortable and give an even better appearance that looks so right for some reason.
A range of skirts are available on the market these days, they can be plain in just a single color or it can be printed with attractive patterns to be more flexible in styling options. Depending on which one you take, you can accordingly pick out the kurti to wear it with. Generally, a simple skirt for a flashy top and a flashy skirt for a simple top is the rule to follow.
4. Leggings: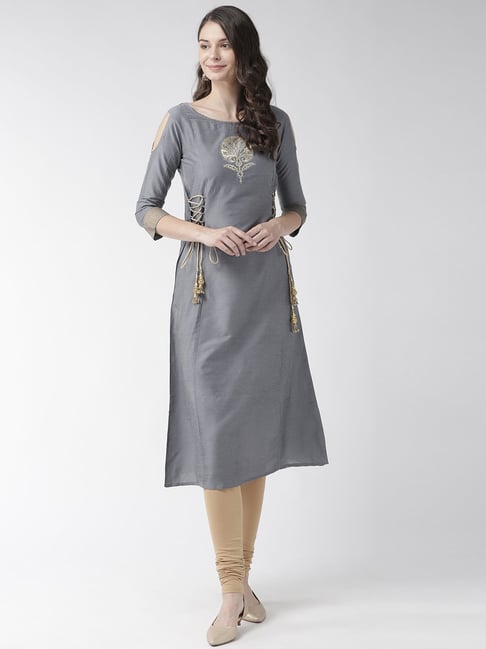 When it comes to creating an outfit that offers the best range of advantages, you should look no further than leggings as they give the most amount of plus points for young to middle-aged women. They are both comfortable as well as stylish enough to be worn to public events. The best thing about leggings is that there are hundreds of options, colors, material composition, fit, and even design.
They are bound to be a staple in every woman's wardrobe and are the easiest item to wear when you are short of time or need a super comfortable garment to help you through a long day at work. Leggings also act as great activewear as it allows for the maximum amount of movement due to the stretch that the material provides.
5. Churidar/ narrow pants: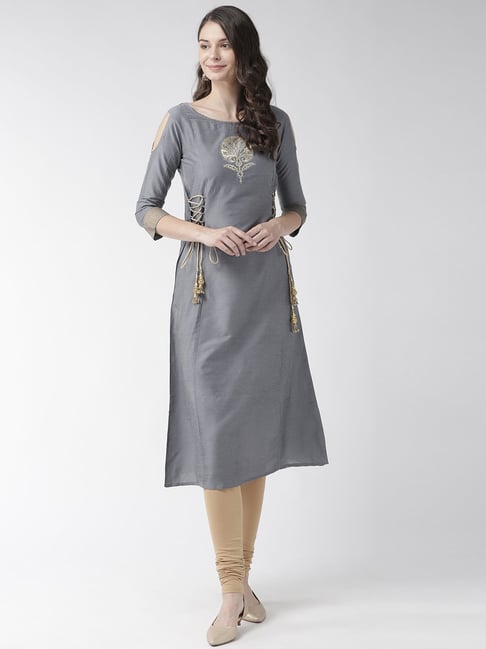 Many women will also prefer to wear traditional narrow pants or churidar. This way you can even convert the outfit into a salwar suit just by selecting bottom wear that will match the intricate embroidery of your kurti and adding on a dupatta to give a pure and authentic Indian look.
You do not have to stick to the exact same color but you should definitely try to stay along the same lines. If you are picking totally different colored pants, make sure to assure that the dupatta is also of the same color so that it does not look like a confusing outfit that was just put together accidentally.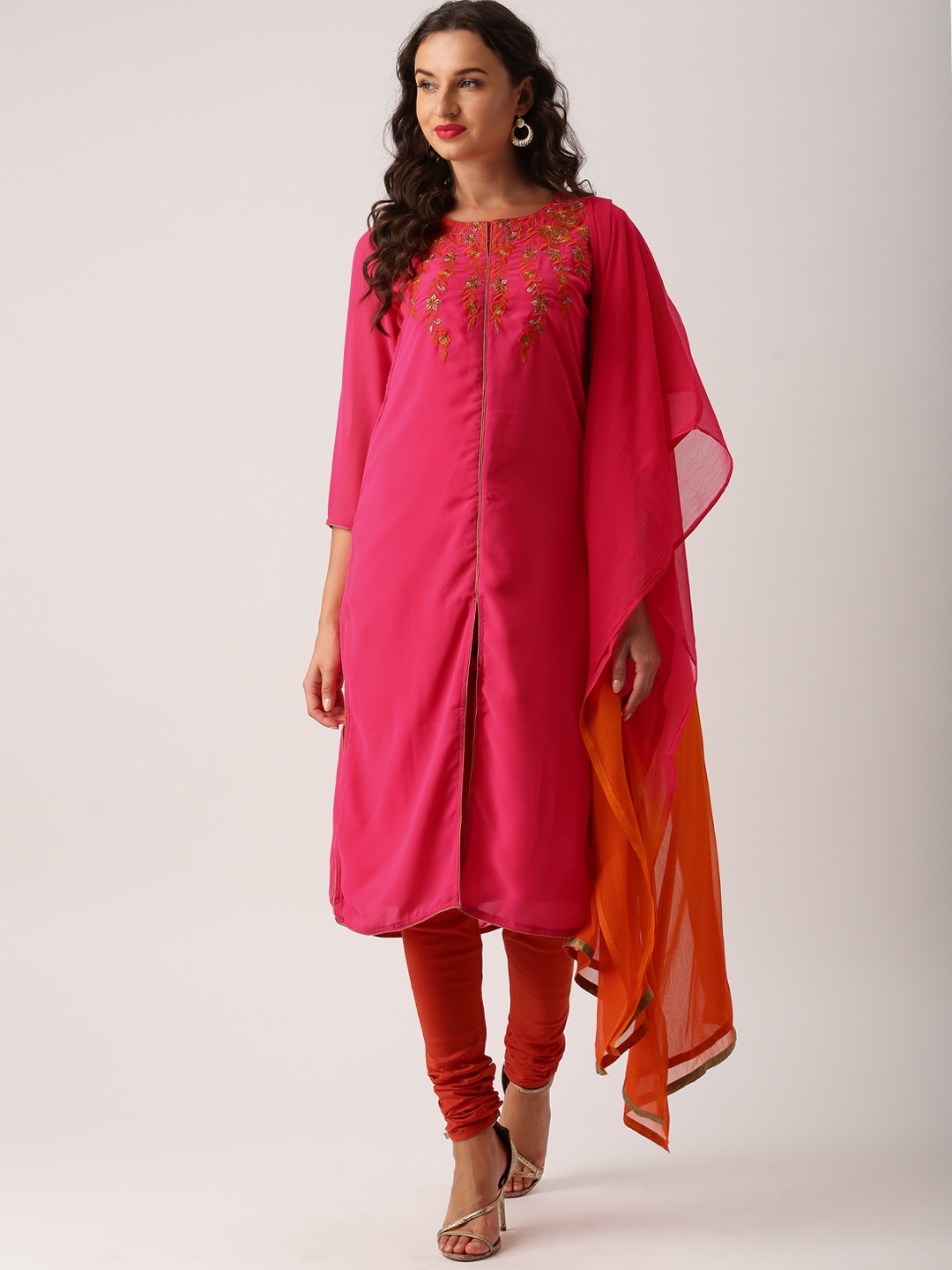 After reading all this you will agree that the kurti is indeed a versatile garment that is the hero in terms of multi-purpose and multi-airing capabilities. It can be utilized to your advantage and can be worn on any occasion and the only thing you have to think about is the specific style you want, this will not be a problem as the market is flooded with a wide range of tunics waiting for you to purchase them. They can be found everywhere online and offline and can be purchased from the comfort of your home.